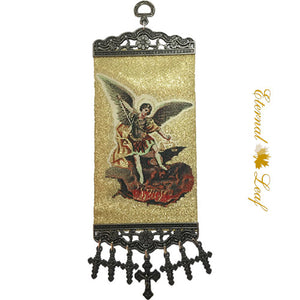 Images of Christianity including cherubs and angels have been painted on the walls and glasses in Europe, Anatolia, and the Middle East centuries ago.
This wall tapestries show important biblical events and stories. They are very nice and quality with their silky feeling and shiny golden or silver look.
You can use these tapestries to inspire and create a wonderful look and feel that you are looking for. These original arts such as Raphael, the sheer beauty of angels, or biblical scenes are from Roman, Byzantine, and Renaissance artists.
People who bought this product, also bought